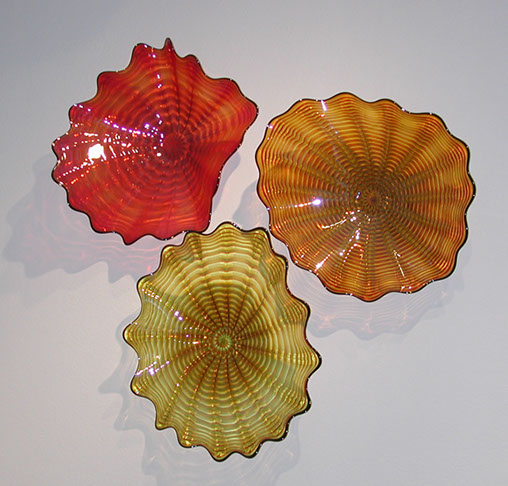 Glass platter Trio - Large variety of colors and shapes available.
Mix and match to suit your decor needs.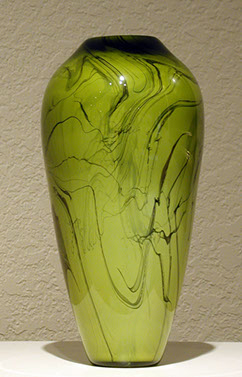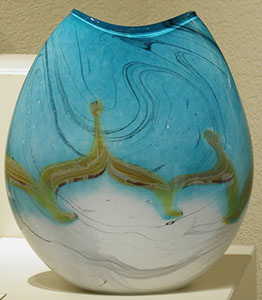 Landscape Vase, Teal - Glass 10.5"H
​(SOLD)
Landscape Vase, Olive - Glass 12"H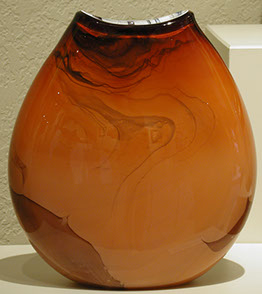 Landscape Vase, Apricot Marble - Glass
10.5"H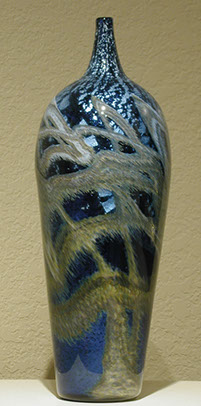 Landscape Vase, Blue and Silver - Glass - 18"H (SOLD)
Acorn Vase - Glass, Unique
Banjo Vase in stand - Glass
Unique (SOLD)
Egg and Bird - 10.5"H
Unique hand blown glass
Crackle Horn, Vertical in stand
Unique hand blown glass - 20"H
Contemporary Leaf with hand forged metal - 30"L (SOLD)
Acorn with hand forged metal leaf base
Oak Leaf & Acorn with hand forged metal base
STAN O'NEIL - Since the age of 14 Stan knew that whatever he did in life it would involve working with his hands. At an early age, he loved to design and fabricate items. His work experience began with paint work on cars. As his art skills developed, he worked more intensely with metals. He has attended many different blacksmithing, metal working and auto painting courses. During the time he took metal working courses, he was introduced to the art of glass blowing. Almost immediately, he knew the time had come for him to expand his talents and incorporate glasswork into his current array of skills. Some of his work includes hand forged metal art flower stands that hold beautiful hand blown glass platters. All metal parts are hand forged with heat and hammering and the platters are custom blown in his studio. The hardness and formability of the metal in combination with the forming of the glass really excites him. Combining two different art media formed from heat and fire has presented great possibilities for his work. The colors and forms are an endless challenge and offer great possibilities for future designs.
Stan has attended many glass blowing classes at Pratt Art Institue in Seattle Washington. He has also had many private lessons from some of the best glass artists in the country. He continues to attend classes to learn new and more advanced techniques in glass blowing. In the summer of 2010 he had the pleasure of attending Pilchuck Glass School in Stanwood Washington. Under the instruction of glass artist, Randy Walker, he was able to progress his skills. He is now working on his skills in hot glass sculpting to add more variety to his art. He loves the beauty of the colorful art glass he creates and is inspired every day to create new designs.
Bamboo Vessel with Blackbird
29"H