After April Showers 24 x 30 Oil $5,000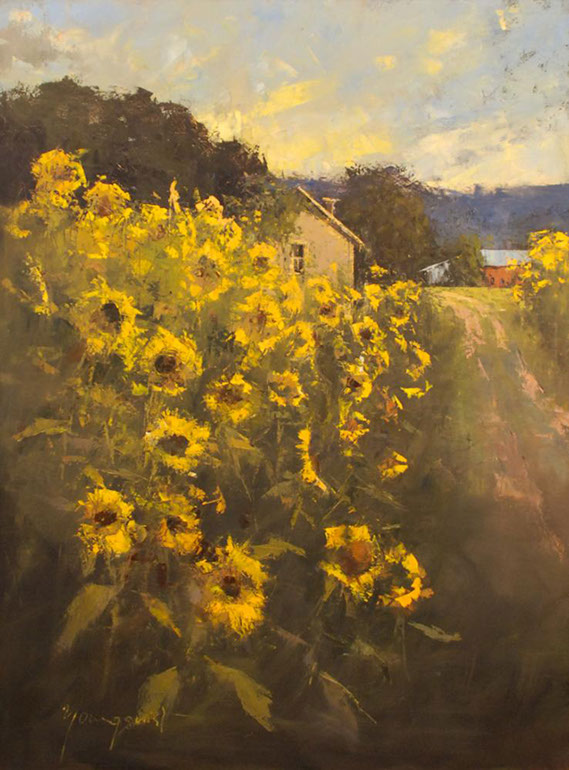 Sunflower Sunset 48 x 36 Oil $9,000 . (SOLD)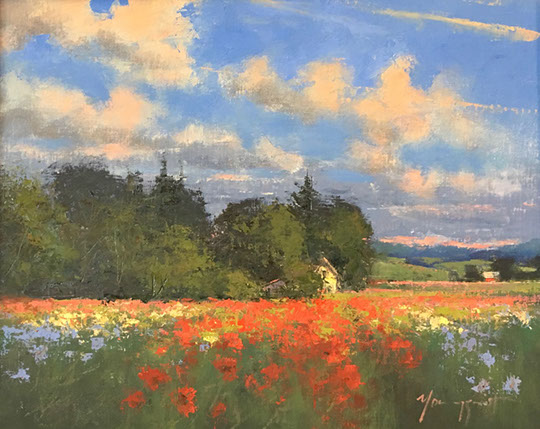 Dahlia Farm Morning 20 x 24 Oil $4,200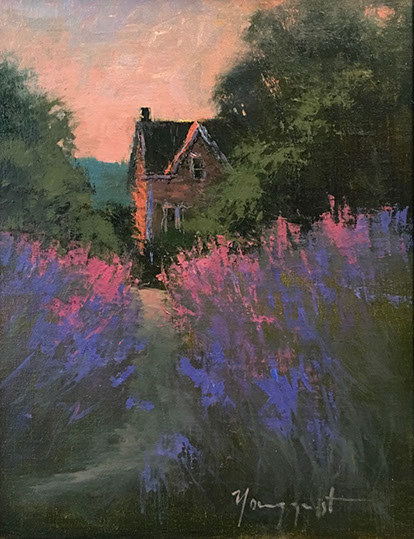 Sophia's Garden 18x14 Oil 2,750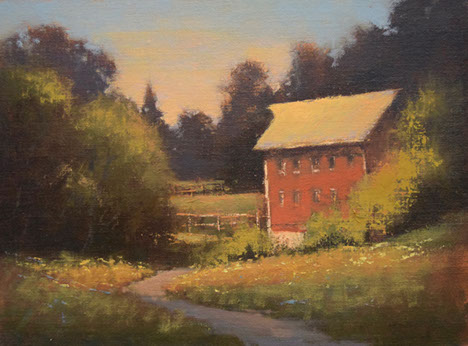 Mary's Barn 12 x 16 Oil $1,800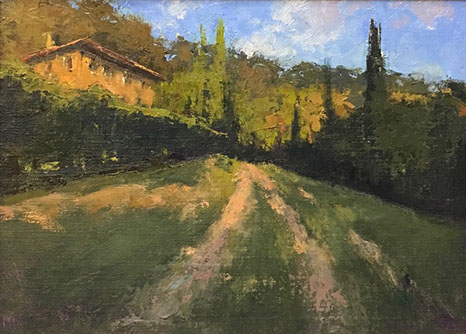 Tuscan Morning 9 x 12 Oil $1,500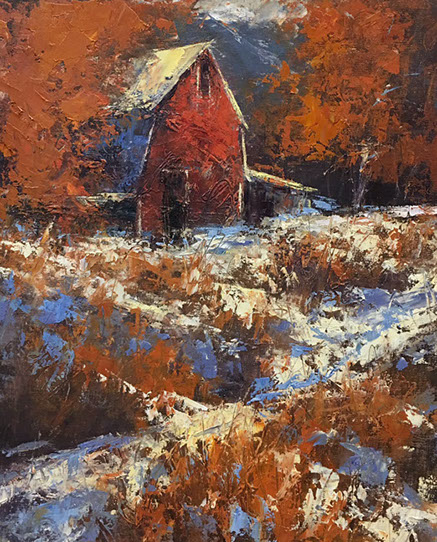 Autumn Snow 18 x 14 Oil $2,750
Old Barn in Autumn 36 x 48 Oil $9,500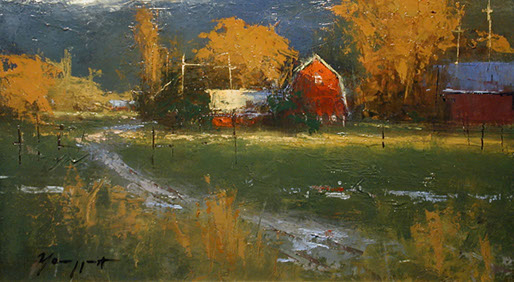 Light on the Farm 10 x 17 Oil $2,000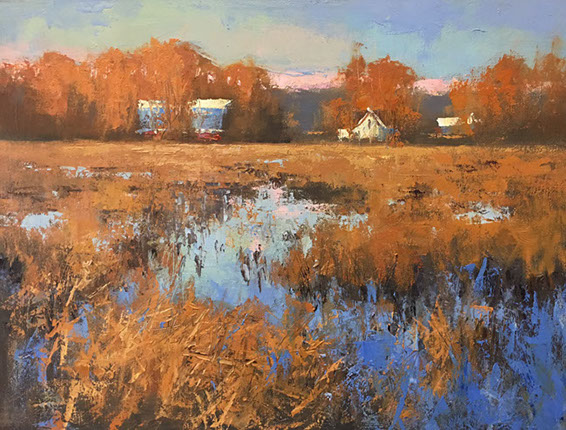 Autumn At the Refuge 14 x 18 Oil $2,750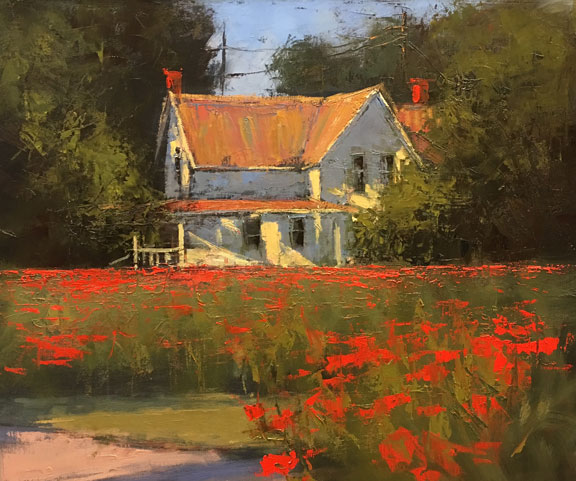 Countryside Antique 20 x 24 Oil $4,200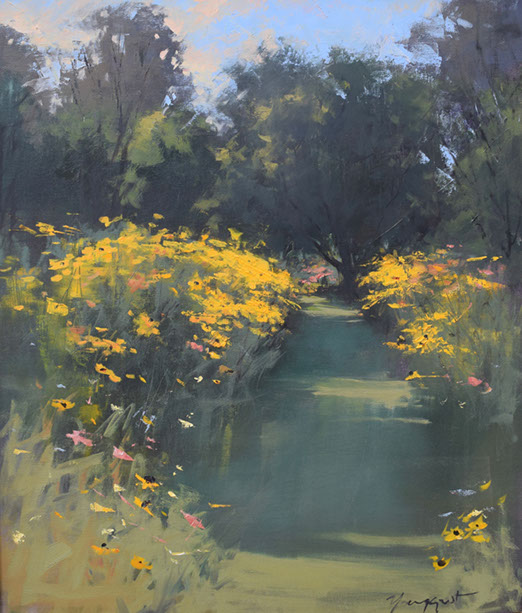 Summer In the Garden 24 x 20 Oil $4,200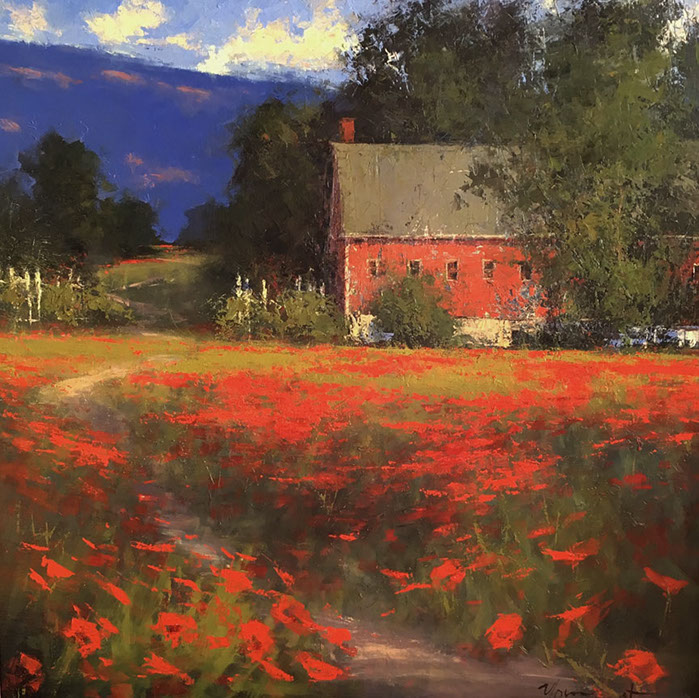 Spring Is Finally Here 40 x 40 Oil $9,000 (SOLD)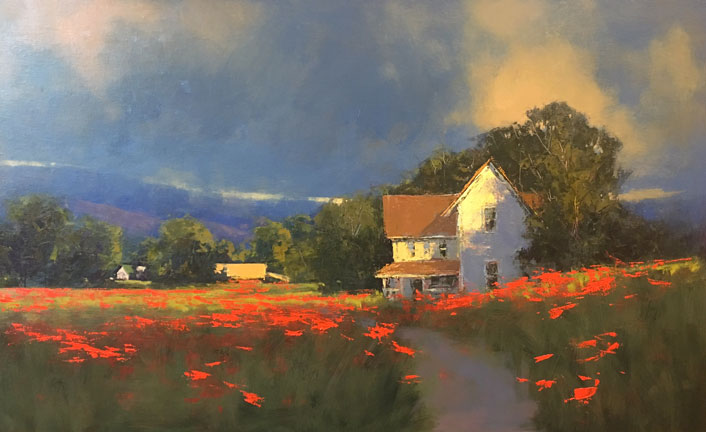 Summer Afternoon 22 x 36 Oil $4,800 (SOLD)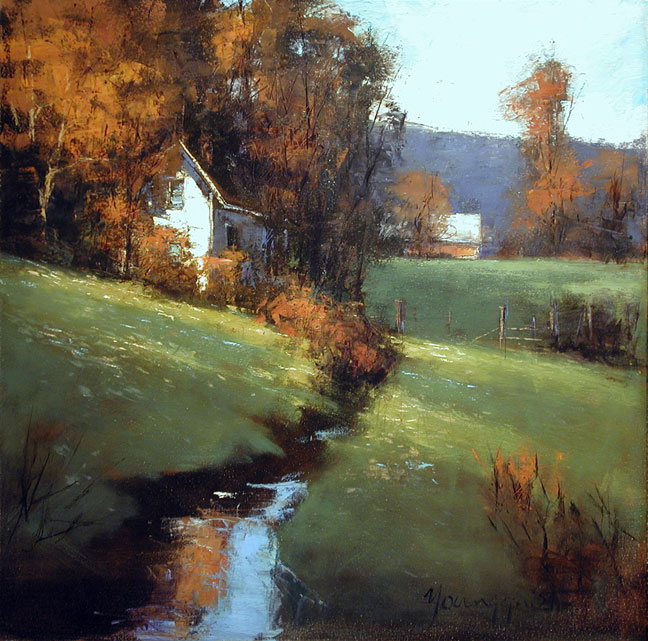 Amber Light 30 x 30 Oil $5,500 (SOLD)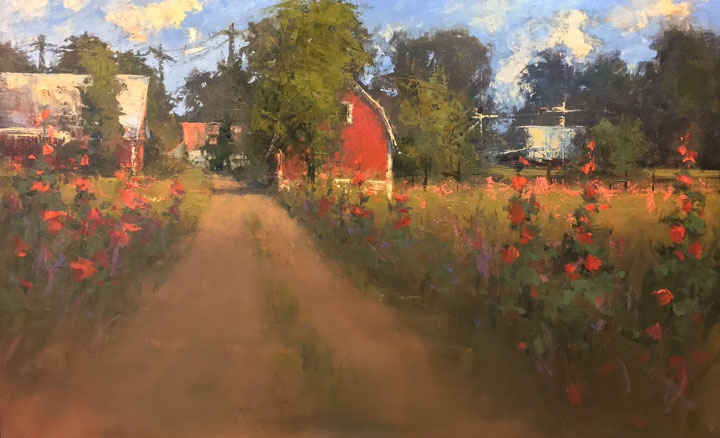 Roadside Hollyhocks 23 x 36 Oil $4,900 (SOLD)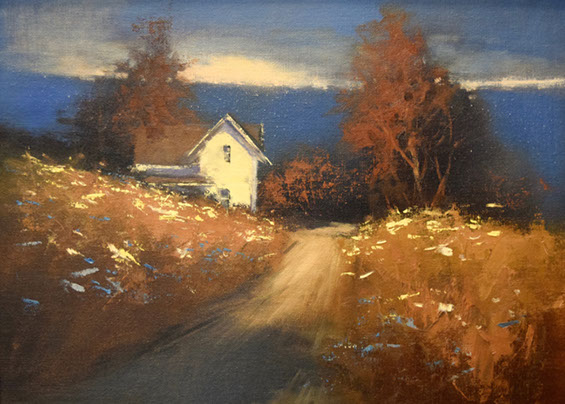 The Road Home 12 x 16 Oil $2,000 (SOLD)
Summer Zinnias 9 x 12 Oil $1,500 (SOLD)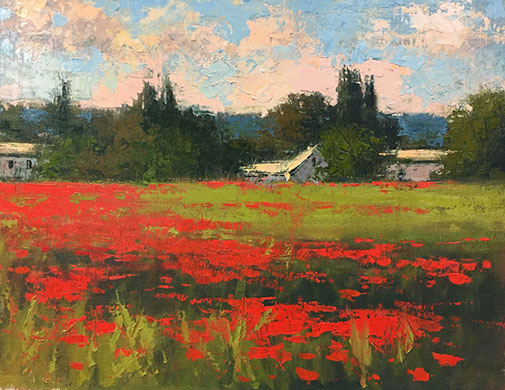 Sunny Summer Day 14 x 18 Oil $2,750 (SOLD)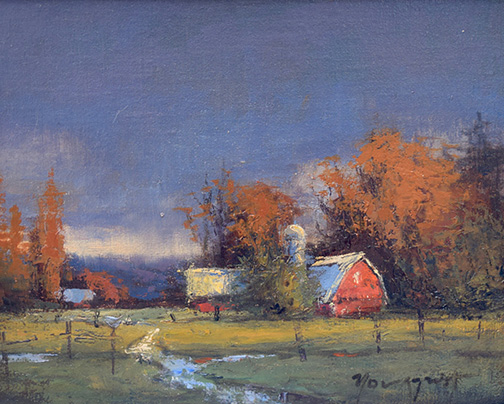 Harvest Season 8 x 10 Oil $1,300 (SOLD)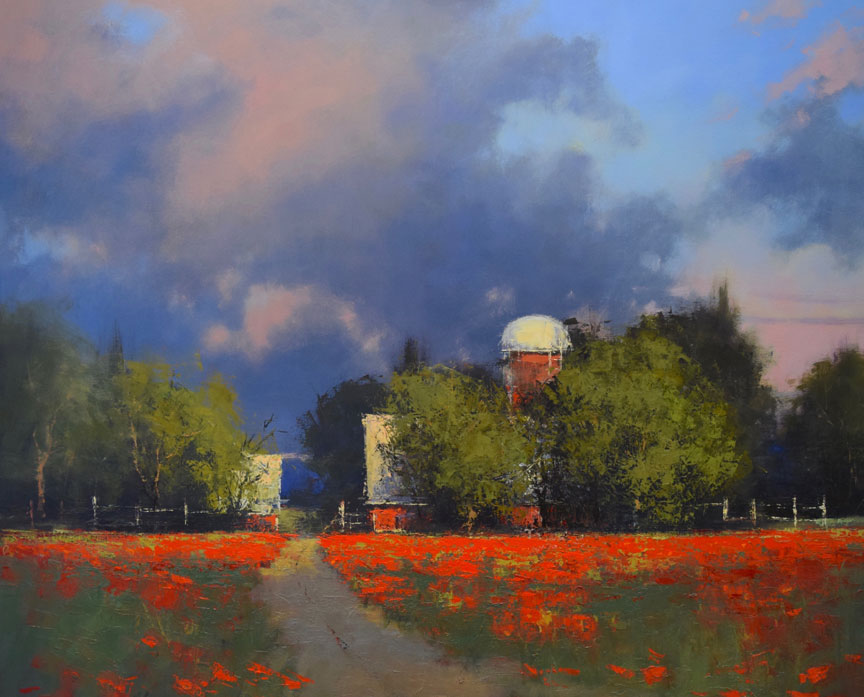 Nearby Farm 48 x 60 Oil $15,500 (SOLD)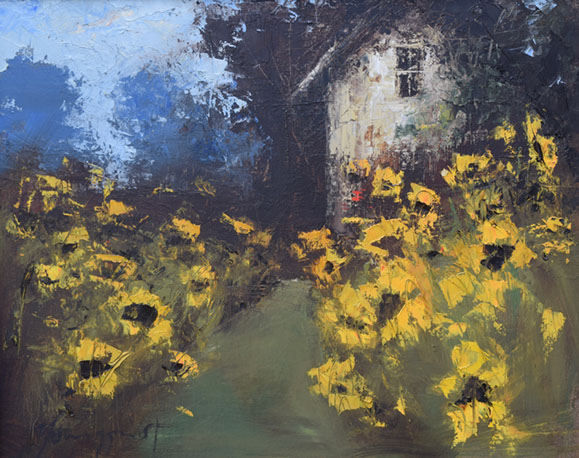 Days End 16 x 20 Oil $3,000 (SOLD)
Romona Youngquist was born in1960 in Yuba City, California, but grew up in rural Oklahoma. Youngquist started out in life as a child of nature, spending her time exploring the woods with her dog and collecting critters. While exploring, she found herself immersed in the design and colors of nature. She recalls many times standing in a field just staring in fascination at the values of the deciduous trees against a dark Oklahoma sky before a storm, then rushing home to draw what she had seen.
Essentially self-taught, she attributes nature as one of her most valuable teachers. She has also studied with several leading landscape painters including Michael Gibbons and Michael Workman, learning many valuable lessons that helped her to develop her own individual style. She also admires the work of Russell Chatham, Emil Carlson and Wolfe Kahn and is inspired by the beauty of simplicity and atmosphere in their works. Now in her fifties, she has firmly established herself with galleries and collectors throughout the US and has been honored with numerous accolades and awards.
Success has not changed her lifestyle much since those early days. She lives on a little farm with her family in the wine country of Oregon, spends lots of time out in nature gathering inspiration and still collects a wide range of critters. When she isn't painting outside, she's working in her studio listening to her favorite music, Bach, Handel and Mozart.