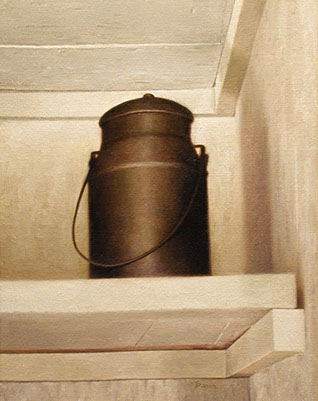 On the Shelf - 10 x 8 Oil $1,800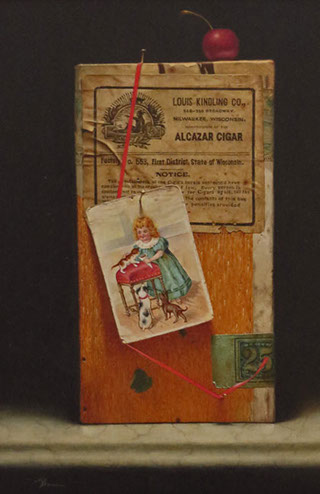 The Little Maiden - 12 x 9 Oil $2,700
The ONE Folded - 8 x 6.5 Oil $2,000
The ONE Envelope 11" x 15" Oil on panel $3,200 (SOLD)
Dan Brown was born in Syracuse, New York in 1949. As a child, he sketched sports heroes from newspaper photos. As a teenager, with his parent's encouragement, he enrolled in art classes at Syracuse University and the Everson Museum of Art. After high school in 1967, he attended The Paier College of Art in Hamden, Connecticut.
Dan became a professional illustrator after graduation. He created covers for hundreds of mass market books, artwork for magazine stories, and commercial advertisements. Two paintings for the Untied States Army Reserve hang in the Pentagon. His painting depicting the Pentagon the morning after the terrorist attack is in the permanent collection of the Army War College. His portraits of Bob Dylan and other rock and roll legends are part of the collection of Rolling Stone magazine.
While working as an illustrator, Dan honed his skill and vision as a fine artist. Inspired by Winslow Homer, Edward Hopper, and Andrew Wyeth, he worked in both oil and watercolor. Paintings of his hang in private collections from Cape Cod to California, in Canada, and in the United Kingdom. Over the years he has had many solo exhibitions, and participated in group shows, in such venues as the Pogan Gallery, David Findlay Galleries, and Susan Powell Fine Art.
Influenced by the contemporary artist Ken Davies, by the 16th century painter Edward Collier, and by the unheralded painter of currency Otis Kaye, Dan recently focused his attention on trompe l'oeil, realistic paintings that fool the eye. The subject matter is vintage postcards, which are mostly sight specific, and paper currency. They are often presented in a rack painting format.
Dan is married with two grown children and three grandchildren. He and his wife, Betty, share their time between Manhattan and the south shore of Long Island.